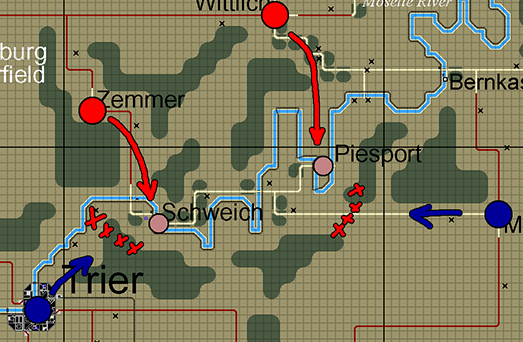 We have a very special event for you tomorrow which will be bringing back some old school flavors. No mobile spawns, depot spawning, or FB's to the town's which have no brigade in them. That means lots of teamwork and increased challenges to be the VICTOR of this event.
Event starts Saturday at 12PM Server Time (GMT -6) and will go until Monday when we prepare for maintenance and Campaign 117. Full briefing and recon maps are inside, check in on our special event forum.
PREPARE FOR WAR SOLDIERS!
Allies have units in Trier and Morbach; the Axis have units in Zemmer and Wittlich and also own Schweich and Piesport. Additionally, an Allied air unit is in Wiltz and an Axis air unit is in Sobernheim.
FULL EVENT BRIEFING INCLUDING AERIAL RECONNAISANCE LOCATED HERE
The Axis get a one hour head-start to fortify the area, up to within 4km of the Allied towns. Once this period is over, the Allied units are moved in and the scenario begins. Victory is based on who holds the towns when the battle is over — even if they capture both towns, the Allies still need to hold them until the end to win.
EVENT RULES & SETTINGS
No bridge AOs, AOs on the two objectives at all times.

Disable capture delay to allow for an immediate counter-attack if a town is taken.

Disable automatic AI rebuilding to encourage engineers to repair AI and, hopefully, build fortifications while they're out there.

Disable FBs to no-mans-land towns (i.e., the objectives) to encourage use of the whole surrounding area.

Disable depot spawning to force an even playing field between attacker & defender.

Disable FRUs to make area control meaningful and give some of that "old game" feel. (Possible alternative with GMs enforcing FRU placement in ZoC, but would probably be painful in practice.)
ADDITIONAL TIME ZONES (SATURDAY)
Server Time: 12:00 (US Central, GMT -6)

Pacific: 10AM

Eastern: 1PM

UTC: 5PM

England: 6PM

Sydney Australia: 3AM (Sunday)
OVERALL SUGGESTIONS
Survival Matters More than Anything. If you rush into a building and die, you're depriving your team of a body on the field for a good ten+ minutes. Unless it's really do-or-die time, don't throw your life away for nothing.
Reinforcements & Control are King. If you can't get back to where you are after you die, you don't actually control your current location. Go building-by-building if you have to, but make sure reinforcements can get to you safely.
Captures Are Meaningless. No matter what, you're going to spawn in the same place regardless of who owns what building. Other than AI, building ownership only matters at the very end of the scenario: If someone wants to cap, let 'em cap and shoot them when they walk out the door.
Advance Slowly. If you frantically drive a mile behind enemy lines and die, you haven't moved the front an inch. If the territory you've taken isn't secure, you haven't taken anything.
Fallback Quickly. If you "hold the line" and the enemy kills everyone at your position, they're going to be unopposed until they reach the next group of defenders. If falling back a little bit means you survive, then you've made the fight that much harder for them.
Bring Engineers & Build PPOs. If you want you to survive and your reinforcements to reach you safely, cover is king.
Bring Trucks. You should always have at least one truck doing ammo runs and helping guns reposition.
Move in Groups. One rifleman, ATG, or tank is an easy kill. If that unit was alone, it was also a free kill.