Campaign 146 came to a close with an Allied victory.  This capped off a three campaign Allied win streak.  After a three day intermission, Campaign 147 began at 6pm server time (US Central time) Saturday, 18 November.
For this campaign, rifle supply has been dropped from 250 to 200 and SMGs have been dropped from 100 to 75.  The supply is being closely monitored and may be adjusted during the campaign.  For this campaign, Free-Play players get to use the Grenadier and Starter Subscribers will get to use the Anti Tank Rifle.
A number of Allied players have gone to "the dark side" for this campaign.  This has resulted in an overwhelming Axis presence in game.  After three days, the Axis was already across the border and into France.  Will the Allies dig in and rally?  Only time will tell.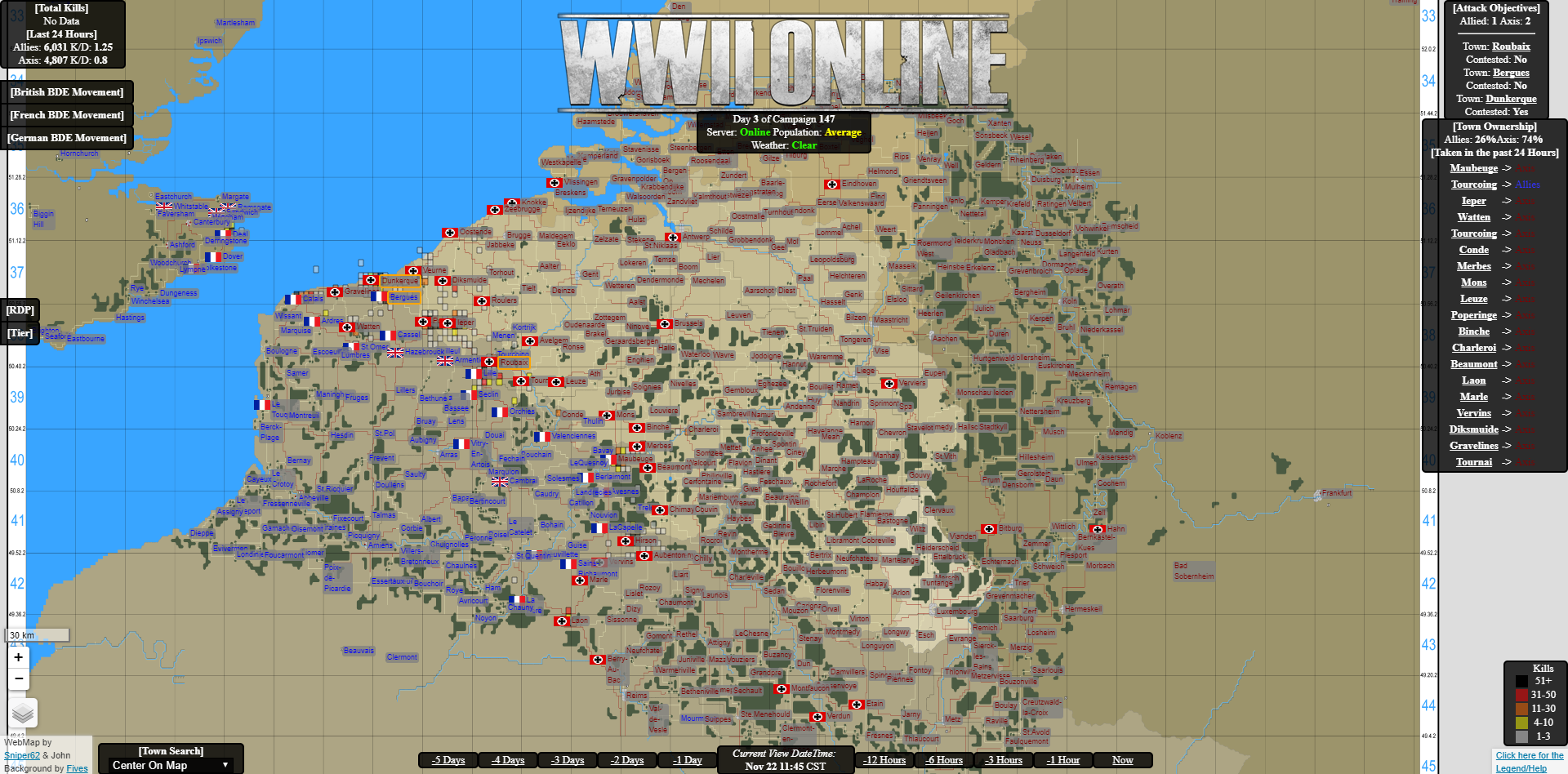 Squad of the Week
CRS would like to extend congratulations to the 250 Hispaña squad on their fifteenth anniversary, this past Sunday, 19 November.
This week, in honor of their anniversary, the featured squad CO is Slpkfor250, commanding officer of 250 Hispaña.
Q:  What is your squad's "loyalty?"
A:  We have 15 years of history on the Axis side.
Q:  What's your squad's "focus?"
A:  We do it all, infantry, "heavy equipment," and aircraft
Q:  Where do you live?
A:  Madrid, Spain
Q:  How old are you?
A:  32
Q:  When did you first play WWIIOL?
A:  I started playing in 2011.
Q:  What attracted you to the game?
A:  The squad-based play, unique in the game, always working together with the same objectives
Q:  Have you been in other squads?
A:  I have not
Q:  What is your favorite unit/equipment to use?
A:  "Fregona"   (Spanish for "mop")
Q:  What's your favorite moment from playing the game?
A:  Having a few moments to relax, playing after work
Q:  If you could tell all new players one thing, what would it be?
A:  Play smart.  Play as a team and obey the veterans.
Q:  Do you have any other comments for us?
A:  Perhaps the game should be more squad oriented, with tools such as internal squad ranks, squad-only missions, and squad-placed FMSs.
Badgers?
Speaking of squads, after over four and a half years of hibernation, there has been a badger sighting in the Allied Squad Recruitment forum.  This follows only a couple weeks after a similar sighting in "The Hangar" forum.  Keep all food items in sealed containers.  Keep trash can lids closed and secure.  Use due care.  You have been warned.
Log in Soldier
This ends this issue of the Community Report.  You're done here.  What are you waiting for?  Campaign 147 is still underway.  Your side needs you now!  Log in!  Get into the fight!  Don't you know there's a war on?