Saturday's Rat Chat shed light on our status of the upcoming 1.34.10 update, what it has taken to get there and the things we'd like to do further ongoing. Open Beta information inside.
Thanks to all of you who had an opportunity to attend the Rat Chat. We had some good questions asked about the new update, Steam and future content opportunities. We have come a long way and made tremendous progress over the last two years, and you're starting to see improvements on the surface - WOOT!
QUESTION & ANSWER SESSION
When should we expect the new update?
A very reasonable question to ask, we're getting much closer but we need more people testing the beta client on PC to help us iron out issues. We absolutely do not want it go full release until we're certain we've received sufficient bug reporting, correction and can deploy a solid release.
Is CRS still planning to get on Steam with WWII Online?
YES! Each step that we have taken is getting us closer to being able to properly deploy on Steam. The Rats will agree with you all that it is a huge opportunity for us to infuse the game with numbers, therefore content and improve the state of things in general. Which is precisely why we have to get this done right, the first time.
And for us, it's not as simple as uploading your game to be purchased like other games. There's a lot of hooks that have to be configured to work for Steam that we found upon getting Greenlit. Top priority at this particular moment is to get the new content in your hands asap!
What can the community do to help push more content into the game?
You can become a Hero Builder and add more fuel into the gas tank - seriously. A Hero Builder is a higher paid monthly ($29.99/mo) subscription that adds more capabilities into our development environment?
HOW? Hero Builders go to help us bring in more resources, whether that be manpower, hardware or software. If you can afford this plan you can seriously help the game out.
OPEN BETA
We've made a huge step in the development realm bringing to you several content updates for the upcoming 1.34.10 update. The ReadMe is quite extensive and there's a lot of goodies on the surface for you to enjoy.
Open Beta download, readme and reporting can be found at this thread (HERE).
Speaking of reporting... effective reporting of any issues with Open Beta will help us expedite its deployment (going live). Please download and test it asap! Effective reporting means providing details on how to replicate the issue. An example of non-actionable reporting is, "I loaded it, and found that thing didn't work." - Details are important!
SUMMARY
The Rats have come to the community with the needs of the game on two occasions and each time we've made great progress. Our goal is very simply, to improve WWII Online and to do that we'll need your backing ongoing.
HERO BUILDER GOAL
As of this writing we're 50% to our Hero Builder goal - good job team!
READY TO BE A HERO FOR WWII ONLINE? UPGRADE YOUR ACCOUNT HERE
Special note: If you are currently locked in the 12 month easy pay plan, and would like to upgrade to a hero builder, please submit a ticket to http://support.playnet.com or e-mail This email address is being protected from spambots. You need JavaScript enabled to view it. with your request.
Hero Builder Recognition:
Ingame "Hammer" Icon
Forum Rank (Title)
Forum Rank Avatar
Website Listing
HERO BUILDER FORUM RANK & AVATAR
"WWII ONLINE BUILDER [HERO]"

HERO BUILDER INGAME (FIRST PERSON)

HERO BUILDER INGAME (THIRD PERSON)
Shows on all ingame units (Axis Infantry Shown)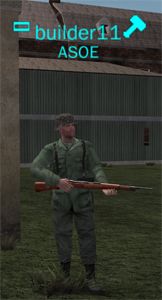 WHY BECOME A HERO BUILDER?
Support the game you love to play, and be awarded community recognition for doing so in and out of the game.
IS THERE A CONTRACT COMMITMENT?
NO.
It is Month-Month. Bulk Year payment available by request only (
This email address is being protected from spambots. You need JavaScript enabled to view it.
).
HOW MUCH DOES IT COST?
$29.99/mo USD [EURO €23.06]
WHEN IS IT AVAILABLE?
WHAT IF I AM IN A CONTRACT PLAN (EASY-PAY)?
Switching to the HERO builder plan is no problem, you will not be charged a cancellation fee. For any billing support, contact
This email address is being protected from spambots. You need JavaScript enabled to view it.
HOW LONG WILL I BE A "HERO"?
As long as you maintain an active Hero Builder subscription, all of the accessories above will remain on your account.
***************************************************************
OTHER QUESTIONS:
Contact
This email address is being protected from spambots. You need JavaScript enabled to view it.
directly.
***************************************************************
We are truly grateful for all of our community's support. This is a way as an existing subscriber you can "up the ante" and go the extra mile without the need to make a bulk payment.
We hope to see some more Hero's in the game very soon! If you're ready to go, start here: BECOME A HERO BUILDER
Login to your account
Select "Monthly Hero Builder" Plan
Send E-mail to:

This email address is being protected from spambots. You need JavaScript enabled to view it.

for Hero accessories (rank / avatar / website listing)