We're pleased to announce that after a large request for a means to support WWII Online, we have created a new builder-type program called, "Hero Builder." This is active now in your account to take advantage of.
After an overwhelming response from the community to open up more options to contribute to the success of WWII Online, we are now offering this option to do so.
Recently we've adjusted all of our pricing plans to be monthly terms, and so it makes sense to do the same with the Hero Builder Program.
Here's what's in store:
Ingame "Hammer" Icon
Forum Rank (Title)
Forum Rank Avatar
Website Listing
HERO BUILDER FORUM RANK & AVATAR
"WWII ONLINE BUILDER [HERO]"

HERO BUILDER INGAME (FIRST PERSON)

HERO BUILDER INGAME (THIRD PERSON)
Shows on all ingame units (Axis Infantry Shown)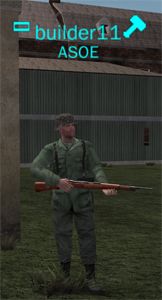 RECEIVE A FREE SECOND ACCOUNT FOR TOWING
Tow artillery guns and transport infantry with a FREE second account, for as long as you maintain an active Hero Subscription.
German Opel & Sdkfz 7 Halftrack
French Laffly
American Laffly
British Bedford & Morris Tractor
Standard free to play access
WHY BECOME A HERO BUILDER?
Support the game you love to play, and be awarded community recognition for doing so in and out of the game.
IS THERE A CONTRACT COMMITMENT?
NO.
It is Month-Month. One year bulk payment available.
HOW MUCH DOES IT COST?
$29.99/mo USD [EURO €23.06]
WHEN IS IT AVAILABLE?
WHAT IF I AM IN A CONTRACT PLAN (EASY-PAY)?
Switching to the HERO builder plan is no problem, you will not be charged a cancellation fee.
HOW LONG WILL I BE A "HERO"?
As long as you maintain an active Hero Builder subscription, all of the accessories above will remain on your account.
***************************************************************
***************************************************************
We are truly grateful for all of our community's support. This is a way as an existing subscriber you can "up the ante" and go the extra mile without the need to make a bulk payment.
We hope to see some more Hero's in the game very soon! If you're ready to go, start here: BECOME A HERO BUILDER
Login to your account
Select "Monthly Hero Builder" Plan
Get your hero access by submitting a support ticket: http://support.playnet.com