Happy New Year WWII Onliner's, we hope you all had a Merry Christmas! The Hero Builder program is the best way to support the game with the means to actively grow and develop it. These community members are recognized by their peers and Rats for their efforts. We're now going even further by offering ALL "active Hero Builders" your very own towing account!
Since we've brought the Hero Builder concept to life (by popular community demand) we've seen the benefit it can have on improving the state of the game, in fact by now YOU should have as well. Community members who are signed up to this subscription (accessible by everyone) help pull the weight of those who are not currently subscribed (ie: free players).
Those of you who are currently a Hero have received recognition for your commendable (and very appreciated) efforts, but now we'd like to go a little further for you to show our appreciation further.
Starting today in this new year of 2015, all active Hero Builder accounts will receive access to FREE second accounts that can be used for towing heavy guns and transporting troops.
YOUR SECOND ACCOUNT ACCESS
Receive ingame Hero Builder recognition icon (see below first and third person icon)
German Opel & Sdkfz 7 Halftrack
French Laffly
American Laffly
British Bedford & Morris Tractor
Standard free to play access
I AM A HERO, HOW DO I GET THIS?
The Rats salute your ongoing support and we're glad you're interested in getting this! Please follow the steps below.
Submit a ticket with help topic of "Hero Tow Account."
In your ticket include your EXISTING active hero builder account name and your new second account name.
NOT A HERO? INVEST IN YOUR GAME
If you're ready to support the game you love to play, there's no better way then by being a Hero Builder. You will equip the development team with the means to build the game and grow our great community. The Heroes of WWII Online have helped us achieve a lot that we couldn't have due to financial limitations.
You will directly invest into the game's growth, be recognized for it and now receive a second FREE account to tow with... now that is teamwork!
COMMUNITY RECOGNITION
Be recognized by the community and Rats for your efforts!
Ingame "Hammer" Icon
Forum Rank (Title)
Forum Rank Avatar
Website Listing
HERO BUILDER FORUM RANK & AVATAR
"WWII ONLINE BUILDER [HERO]"

HERO BUILDER INGAME (FIRST PERSON)

HERO BUILDER INGAME (THIRD PERSON)
Shows on all ingame units (Axis Infantry Shown)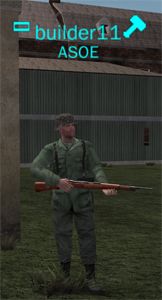 WHY BECOME A HERO BUILDER?
Support the game you love to play, and be awarded community recognition for doing so in and out of the game.
IS THERE A CONTRACT COMMITMENT?
NO.
It is Month-Month. Bulk Year payment available by request only (
This email address is being protected from spambots. You need JavaScript enabled to view it.
).
HOW MUCH DOES IT COST?
$29.99/mo USD [EURO €23.06]
WHEN IS IT AVAILABLE?
WHAT IF I AM IN A CONTRACT PLAN (EASY-PAY)?
Switching to the HERO builder plan is no problem, you will not be charged a cancellation fee. For any billing support, contact
This email address is being protected from spambots. You need JavaScript enabled to view it.
HOW LONG WILL I BE A "HERO"?
As long as you maintain an active Hero Builder subscription, all of the accessories above will remain on your account.
***************************************************************
OTHER QUESTIONS:
Contact
This email address is being protected from spambots. You need JavaScript enabled to view it.
directly.
***************************************************************
We are truly grateful for all of our community's support. This is a way as an existing subscriber you can "up the ante" and go the extra mile without the need to make a bulk payment.
We hope to see some more Hero's in the game very soon! If you're ready to go, start here: BECOME A HERO BUILDER
Login to your account
Select "Monthly Hero Builder" Plan
Send E-mail to:

This email address is being protected from spambots. You need JavaScript enabled to view it.

for Hero accessories (rank / avatar / website listing)